Recipes

Nonna'S Minestrone Soup Recipe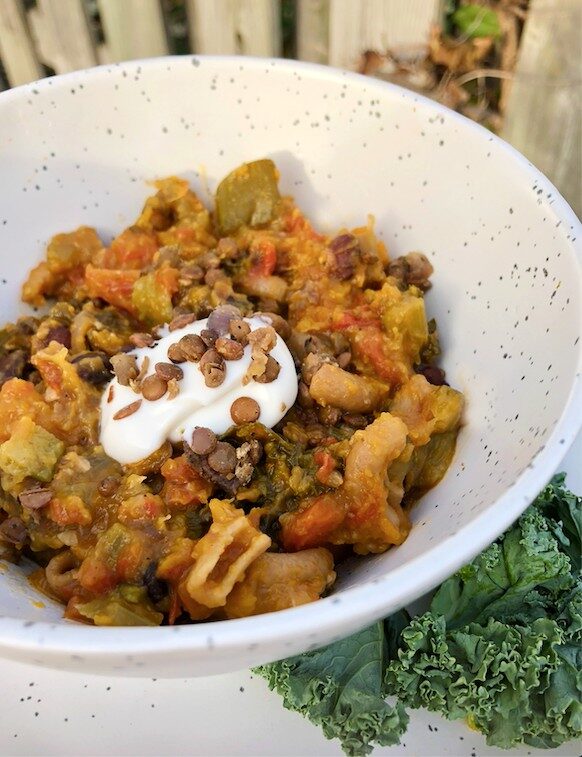 Nonna'S Minestrone Soup Recipe Recipe
By Peanut Palate
Ingredients
1½ tbsp extra virgin olive oil
½ medium white onion finely diced
2 medium cloves fresh garlic finely grated
2 tbsp vegan pasta sauce
7 cups vegetable broth
½ large carrot diced
1 medium celery stick (a rib) diced
1 cup zucchini diced
1 cup butternut squash diced
1 cup kale chopped into small pieces
3 small firm tomatoes diced
1 cup uncooked elbow pasta gluten free or regular
¾ cup dried pinto beans soaked overnight before using
1 bay leaf
½ tsp pink salt add extra salt as per taste
lemon juice and extra virgin olive oil drizzled over top before serving, optional
black pepper optional
Instructions
1Add the oil to a pot over medium heat. Once this is warm, add in the chopped onions and garlic. Sautee these for a few minutes, until they are fragrant and the onions are tender.
2Then add in the pasta sauce, and the carrot, celery, zucchini and squash. Sautee these for about 10 minutes, until the vegetables are softened.
3Add in the chopped tomatoes, and saute for 2-3 minutes more. Then add in the broth, salt, beans, and bay leaf. Increase the heat to medium-high and let this mixture come to a boil.
4Once it boils, reduce the heat to medium-low and let it simmer for 15 minutes with a lid partially on (just enough space to let steam escape).
5Add in the pasta, and cook it with the same lid partially on so that the beans get cooked. Leave it to cook for another 20-30 minutes.
6I would check on this every 5 minutes, and make sure that the beans are getting softer. By the time the beans are softened, the mixture (including the pasta) should also be cooked.
7Remove the pot from the heat, add in more salt and pepper as desired, and remove the bay leaf.
8Drizzle in the optional lemon juice and olive oil before serving!
View Full Recipe
Top Vegan Recipe Resources
🥑