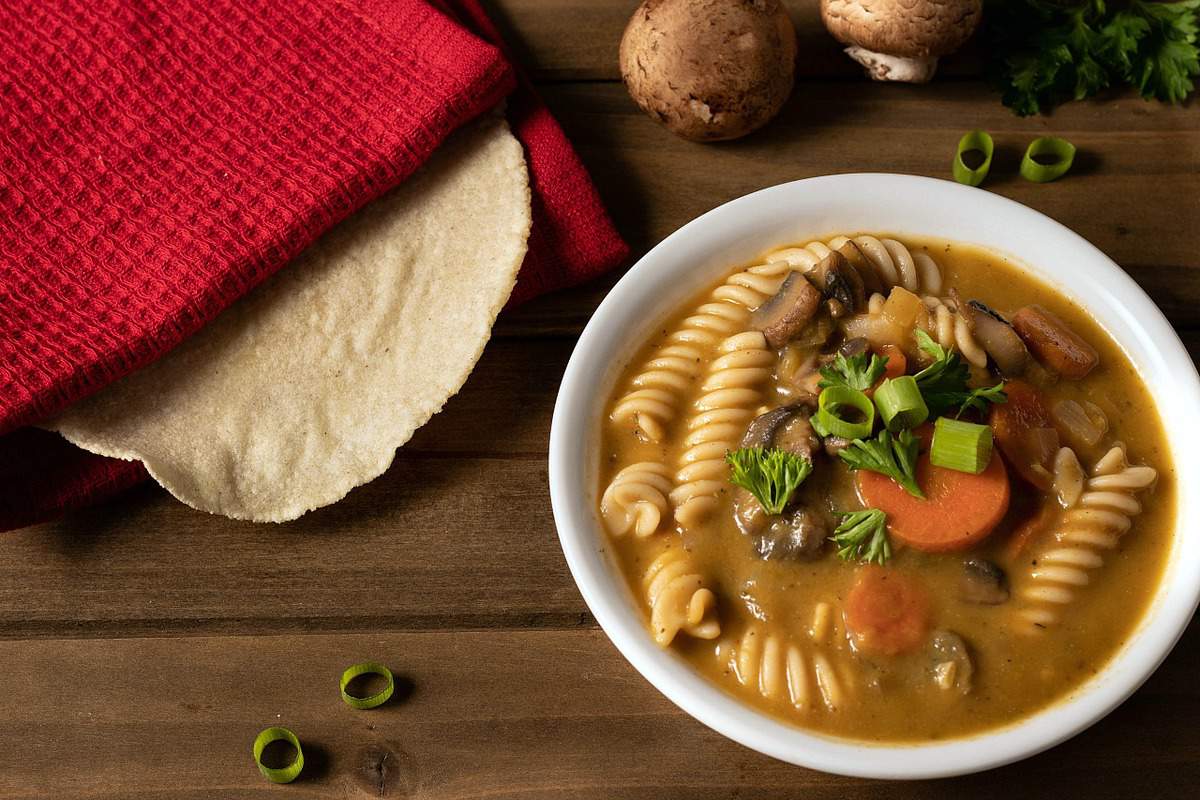 Mushroom Noodle Soup Recipe
By Brand New Vegan
🔪Prep Time: 30 min
👩‍🍳Cook Time: 30 min
Ingredients
1 small onion (1 1/2 cups)
2 ribs celery (1 cup)
2 carrots (1 cup)
2–3 cloves garlic, minced
1/2 tsp dried thyme leaves
1/2 tsp rubbed sage leaves
1/4 tsp ground pepper
8 oz Baby Bella mushrooms, cleaned and sliced
8 cups low-sodium vegetable broth
1/2 tsp poultry seasoning
1/2 tsp salt
1 bay leaf
12 oz dried pasta
1 Tbs white miso
Instructions
1Dice onion and add to a large soup pan/dutch oven. Saute in a splash of water or veg broth.
2Add sliced carrots and celery and saute until softened.
3Add garlic, thyme, sage, and pepper and stir until aromatic – about 3o seconds.
4Add sliced mushrooms and simmer until softened and they have released their liquid
5Add veg broth, poultry seasoning, salt, and bay leaf. Cover and increase heat to simmer.
6Let soup simmer, covered, for 30 minutes
7Remove 1/2 cup of soup broth and set aside.
8Add pasta and cook until al dente – about 10 minutes. Remove from heat.
9Add miso to the 1/2 cup soup broth and whisk until dissolved, stir into soup.
10Add salt and/or pepper to taste and serve.
View Full Recipe
Top Vegan Recipe Resources
🥑