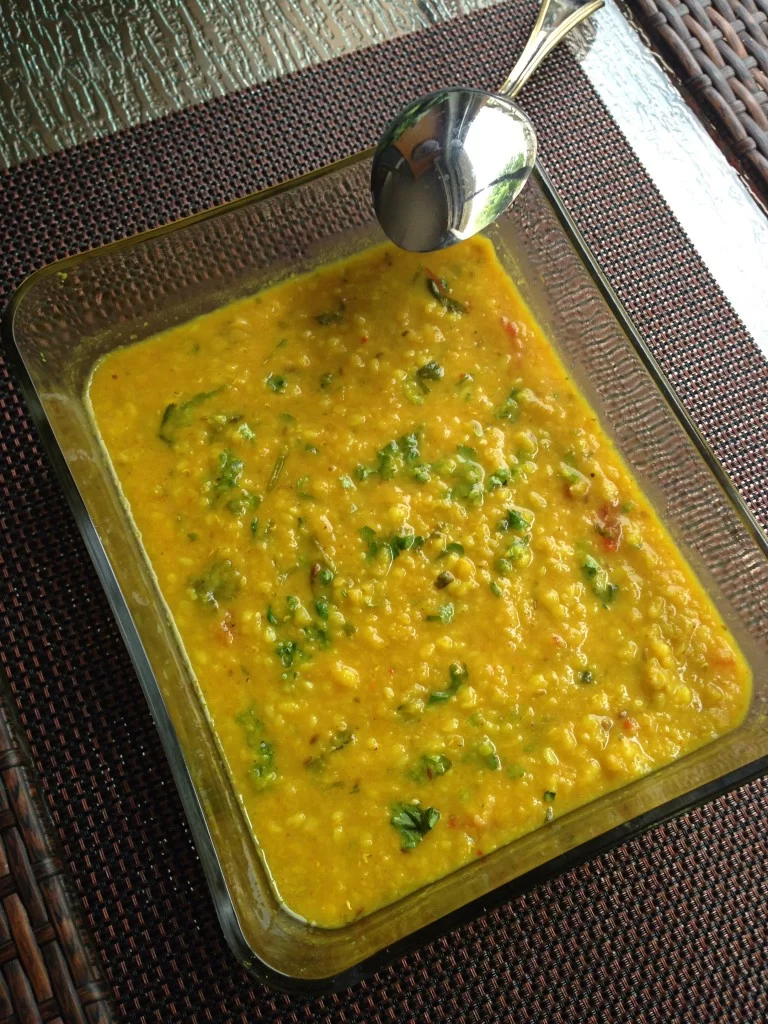 Moong Dal Recipe (Yellow) Recipe
By Peanut Palate
🔪Prep Time: 10 mins
👩‍🍳Cook Time: 20 mins
Ingredients
For the Lentils
½ cup yellow lentils (moong dal)
½ cup orange lentils (massar dal)
4 cups water
1 tsp pink salt
½ tsp turmeric powder
For the Tadka
1 tbsp neutral oil eg. avocado oil, refined coconut oil
1 medium purple onion chopped finely
1 small firm tomato chopped finely
½ tsp cumin seeds
½ tsp fresh ginger minced
¼ tsp fresh garlic minced
1 tbsp fresh cilantro chopped finely
½ tsp coriander powder
¼ tsp red chilli powder
For the Topping
1-2 tbsp fresh cilantro chopped finely
Instructions
1Wash the lentils (see the "washing lentils" section above for how to wash them properly).
2Add the four cups of water into a pot and place on the stove over medium-high heat. Stir in the lentils, salt and turmeric.
3Keep stirring until the lentil grains are cooked and soft, and the water is evaporating; the water and lentils are not seen separately but they are more mixed into a type of gravy. This will take 15-20 minutes.
4In a separate pan, prepare the seasoning.
5Add oil over medium heat. As the oil heats up, add the cumin seeds.
6When you see the cumin seeds splattering/sizzling (after less than a minute), add the chopped onion and garlic. Saute this mixture for a few minutes (around 4 minutes).
7Not add the ginger and garlic. Stir for 2 minutes.
8Add tomato, red chili powder and coriander powder while continuing to stir.
9After about 30-45 seconds of stirring the mixture, add half the cilantro and stir one last time.
10Now pour this seasoning into the lentils in the other pot, which should be cooked after around 15-20 minutes. If it hasn't been that long, set aside the onion mixture until the lentils are ready. They should be tender and easily break when pinched with your fingers.
11Once the lentils are ready, pour in the onion mixture.
12Pour the soup into six serving bowls, and garnish with cilantro before serving.
13Enjoy hot! See notes below for storing notes.
View Full Recipe
Top Vegan Recipe Resources
🥑