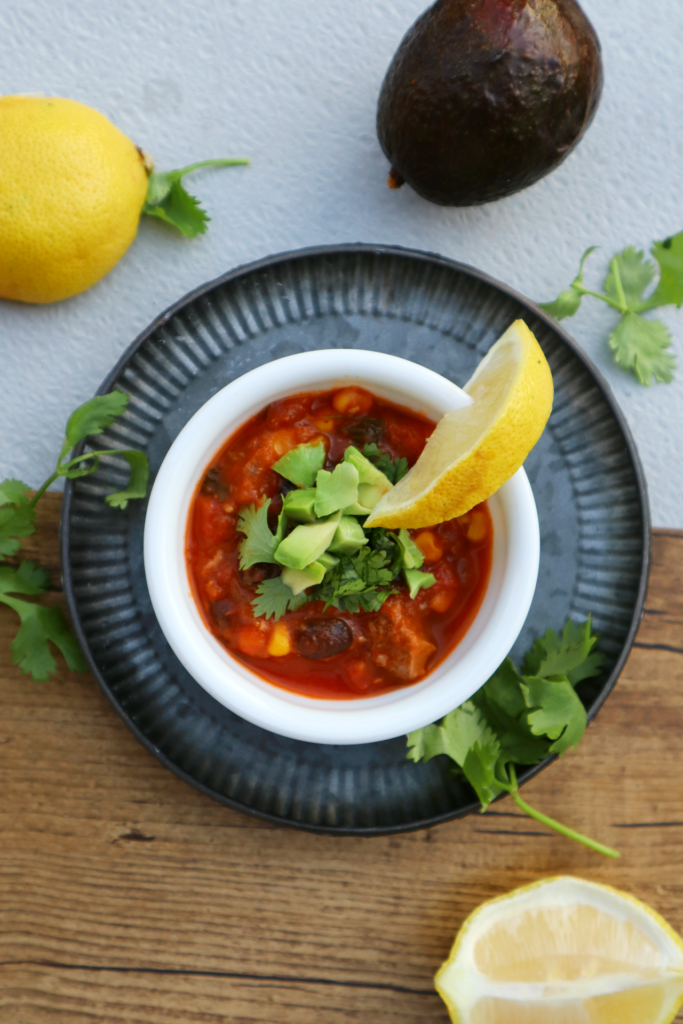 Mexican Taco Soup Recipe
By Peanut Palate
🔪Prep Time: 10 mins
👩‍🍳Cook Time: 30 mins
Ingredients
1 tbsp oil
½ purple onion chopped
1½ cloves garlic grated
½ dried jalepeno pepper diced and seeded
½ tsp ground cumin
Pinch red chili powder
⅓ cup pasta sauce
1 cup tomatoes diced
1½ cups vegetable broth
¾ cup cooked black pinto beans drained
½ cup corn
1 cup boiled soy chunks I use Nutrela brand
¼ tsp salt
2 tbsp cilantro, chopped Optional, for serving
½ avocado, chopped Optional, for serving
Fresh lemon slices Optional, for serving
Tortilla chips Optional, for serving
Instructions
1In a saucepan over medium-high heat, add the oil. When hot, add onion, garlic, and pepper. Cook until onion is tender for a few minutes.
2Add the rest of the ingredients and simmer on medium-low for 20-25 minutes, covered, with just enough space for steam to escape. Remove from heat after 25 minutes.
3Once it's done, top with the optional toppings and serve hot!
View Full Recipe
Top Vegan Recipe Resources
🥑