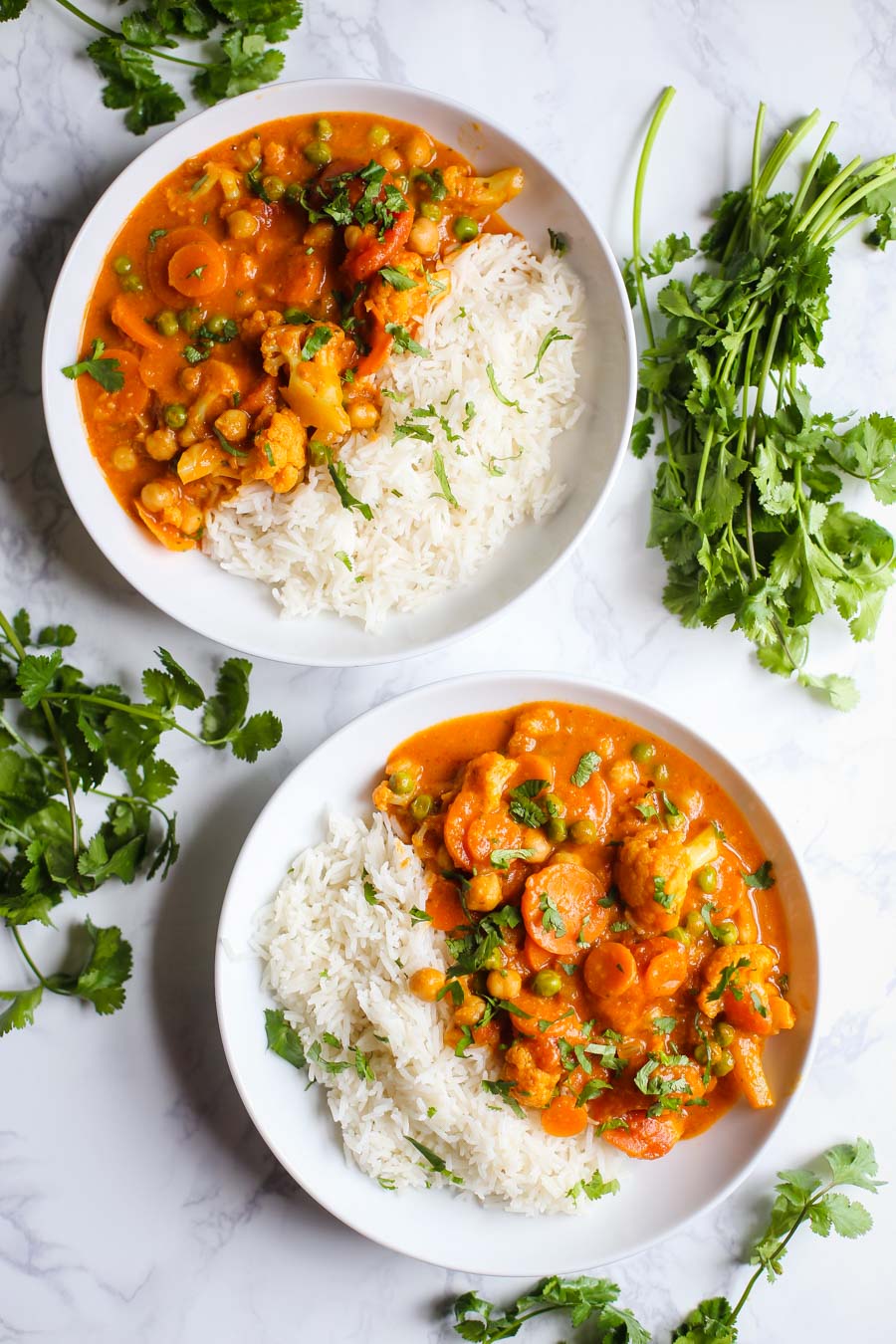 Loaded Veggie Tikka Masala Recipe
By Food With Feeling
🔪Prep Time: 15 minutes
👩‍🍳Cook Time: 40 minutes
Ingredients
Large yellow onion (1/2 goes in sauce in blitzed sauce, 1/2 is finely chopped)
2 cloves of garlic
1 inch of ginger, peeled
10 sprigs of fresh cilantro (plus more for serving)
2 tablespoons of olive oil, divided
1/2 teaspoon of cumin
1/2 teaspoon of turmeric
1/4 teaspoon of ground cinnamon
1 teaspoon of paprika
1 teaspoon of salt (optional)
1 1/2 teaspoons of garam masala
400 g of canned plum tomatoes, not drained
1 15 ounce can of tomato sauce
1 small container of vegan yogurt**, roughly 5 ounces (I typically use So Delicious or Kite Hill unsweetened yogurt)
1 15 oz can of full fat coconut cream or milk**
1/2 head of cauliflower, chopped into bite sized pieces
3 large carrots, peeled and finely chopped
1 15 oz can of chickpeas, drained and rinsed
1 cup of frozen peas
Optional for serving: chopped cilantro, extra yogurt, basmati rice cooked
Instructions
1In a food processor, combine half of the onion, garlic, ginger, cilantro stalks, and 1 tablespoon of olive oil. Blitz until fully combined about 1 minute. (see photo above) Set aside.
2In a large skillet, heat the remaining olive oil over medium heat. Add in the chopped onion and spices, stir to combine and cook gently for 10 minutes.
3Into the skillet, add the plum tomatoes (with the liquid from the can), tomato sauce, yogurt, HALF of the can of coconut milk and the blitzed onion and cilantro sauce. Cook for an additional 5 minutes over medium heat.
4Add in the cauliflower and carrots and bring to a simmer. Simmer for 20 minutes.
5Once the veggies are tender, add in chickpeas, frozen peas and the remaining coconut milk. Stir to combine and let cook for 5 more minutes or until peas are fully heated through.
6Serve with rice and (optional) a bit more cilantro leaves and yogurt.
7ENJOY!!
View Full Recipe
Top Vegan Recipe Resources
🥑