Recipes

Lentil & Pumpkin Squash Soup Recipe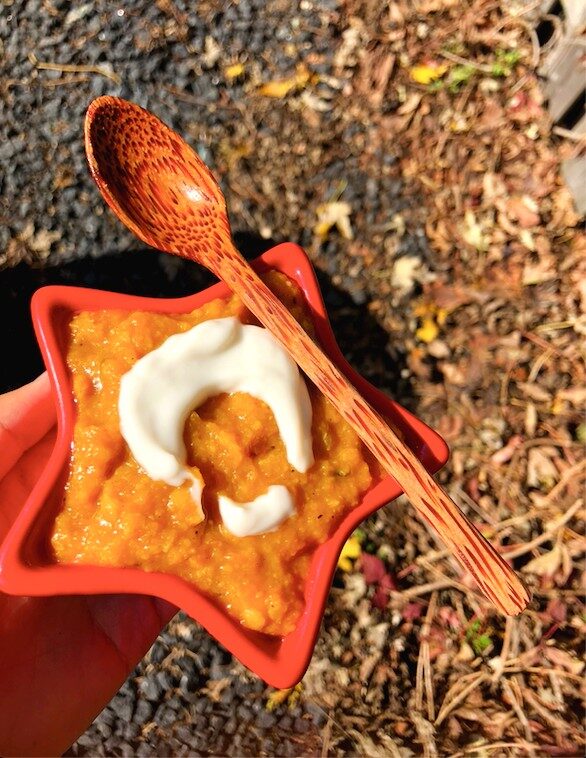 Lentil & Pumpkin Squash Soup Recipe Recipe
By Peanut Palate
Ingredients
1 tbsp olive oil
1 medium white onion diced
½ inch fresh ginger grated
1 medium clove garlic grated
½ medium raw butternut squash or pumpkin cubed // if using a pumpkin, use only about the same size as half a butternut squash, as pumpkins can be much larger
¼ cup dry red lentils
1½ cups vegetable broth
cayenne pepper optional
fresh thyme optional
½ tsp pink salt
Optional Toppings
black pepper
pinch of nutmeg or pumpkin pie spice
sprinkle of brown sugar
lemon juice
Instructions
1Cut the pumpkin or squash in half. Remove the pumpkin seeds and set aside on a paper towel. Cube the rest of the squash into medium cubes. Smaller pieces will make for easier roasting.
2Turn the oven to 375 F, and place the squash or pumpkin cubes on a baking tray lined with parchment paper (or oiled).
3Put the squash in the preheated oven for an hour to roast. It should be very soft and able to be easily pricked by a fork when it's done (about 30-40 minutes).
4Once the squash is ready, warm up a large pot on the stove to medium heat.
5Add the oil. Once it's hot, add in the onion, garlic, and ginger. Sautee until the onions are tender, for a couple minutes.
6Add in the butternut squash, and sautee this for another couple minutes.
7Then add in the rest of the ingredients (as well as the cayenne and thyme, if using). Turn the heat to medium-low for about 20 minutes, until the lentils are very soft.
8Once the lentils are soft and able to be squished easily, use a handheld blender to blend together the squash mixture until it is a soup. If fresh thyme is in the pot, then remove it before blending.
9Bring the mixture to a boil by turning the heat to high, constantly stirring.
10Once this boils, remove it from the heat.
11Pour into serving dishes and serve warm, topping with the optional ingredients listed above.
View Full Recipe
Top Vegan Recipe Resources
🥑