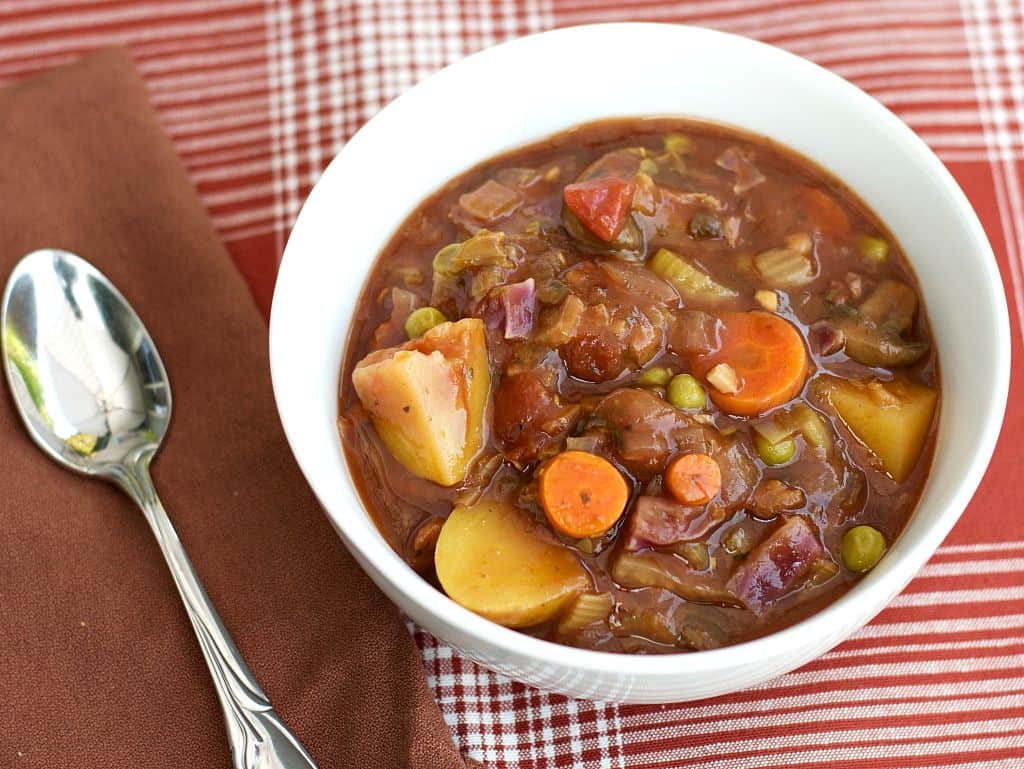 Hearty Vegetable Stew Recipe
By Brand New Vegan
Ingredients
1 small Onion (minced)
1 clove Garlic (minced)
1 rib Celery (minced)
1 Carrot (minced)
1/4 cup Low Sodium Vegetable Broth
1 large Onion (chopped)
8 oz Button Mushrooms (sliced)
8 oz Portobello Mushrooms (sliced)
1 tsp Dried Rosemary
1 tsp Italian Seasoning
1/2 cup Red Wine (or broth) (but the wine really adds a good flavor)
3 cups Low Sodium Vegetable Broth
1/2 tsp Salt
1/4 tsp Ground Pepper
1 can Diced Tomatoes - no salt added (15oz)
2 medium Carrots (chopped)
2 ribs Celery (chopped)
2 Yukon Gold Potatoes (chopped)
1 can Tomato Sauce (8oz)
1/2 tsp Kitchen Bouquet (optional for color)
1 Tbs Balsamic Vinegar
1 Tbs Cornstarch
1 cup Frozen Peas
Instructions
1Mince the carrot, celery stalk, and small onion very fine.
2Saute this mixture in 1/4 cup of veggie broth until the veggies are nice and soft.
3Add the large chopped onion and continue cooking until softened.
4It's ok if the liquid gets a little low – the brown bits add to the flavor.
5Add the mushrooms and cook on medium high until they lose their liquid.
6Season with the rosemary and italian seasoning.
7Add the wine and deglaze any brown spots in your pan. (This is the good stuff!)
8After a few minutes add the rest of the broth, the tomatoes and tomato sauce.
9Add all your chopped veggies and turn the heat up to boil.
10Add the rest of the seasonings – but not the cornstarch.
11Once it's boiling, turn down the heat to low and add the peas.
12Mix the cornstarch with a tablespoon of cold water and stir this in to thicken.
13Simmer to desired consistency.
View Full Recipe
Top Vegan Recipe Resources
🥑