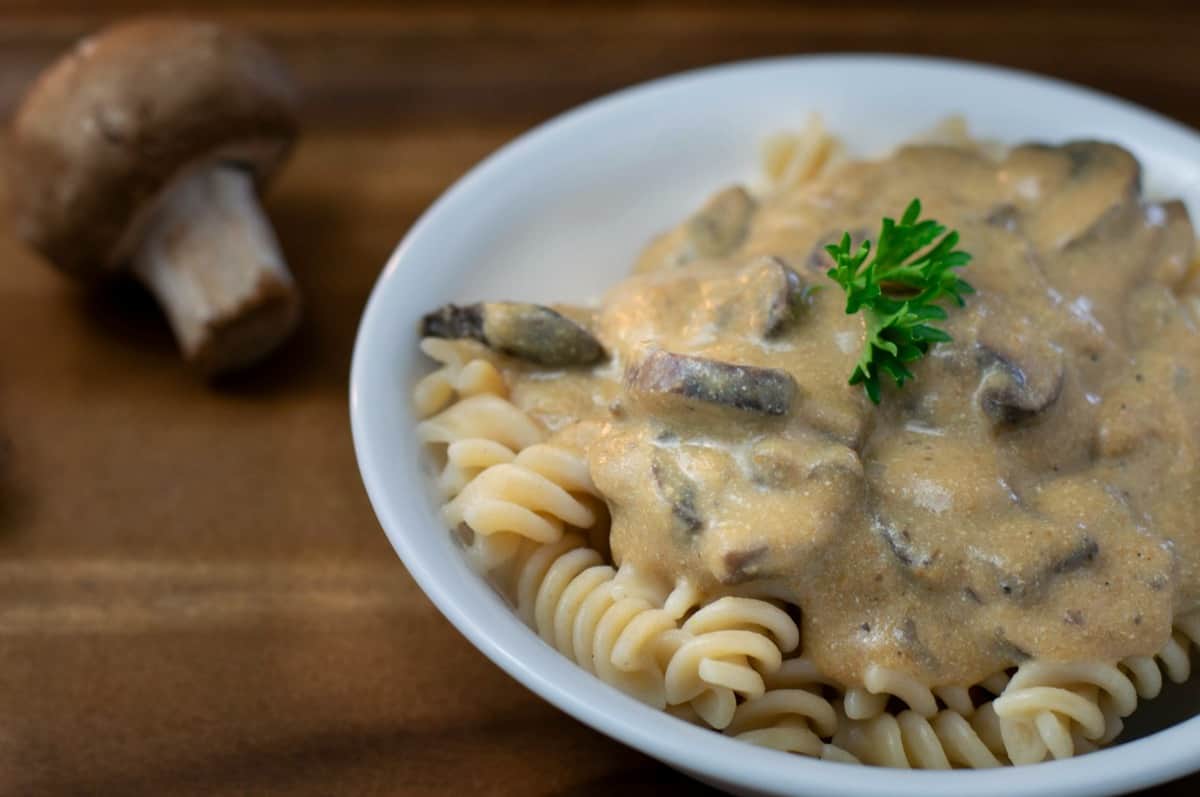 Easy Vegan Mushroom Stroganoff Recipe
By Brand New Vegan
🔪Prep Time: 15 min
👩‍🍳Cook Time: 30 min
Ingredients
1/4 cup whole wheat flour (or sub your favorite GF flour)
2 Tbs nutritional yeast
1 tsp onion powder
1/2 tsp garlic powder
1/4 tsp black pepper
2 cups low sodium veg broth
2 Tbs low sodium soy sauce
1/2 tsp prepared yellow mustard
1/2 tsp kitchen bouquet (optional – adds color)
16 oz EF tofu, drained
1/4 cup lemon juice
2 Tbs red wine vinegar
1 clove garlic, minced
1/4 tsp salt (or to taste)
12 oz box brown rice fusilli (or your favorite pasta)
16 oz portobello mushrooms, sliced
1 Tbs low sodium soy sauce
2 tsp vegan worcestershire sauce
salt and pepper to taste
Instructions
1Mix all dry gravy ingredients together and pour into a small saucepan
2Whisk over med-low heat until toasty
3Whisk all wet gravy ingredients together and pour into pan with the dry ingredients.
4Whisk until smooth and heat until thickened – set aside.
5Drain tofu and add to blender along with all remaining sour cream ingredients
6Blend until smooth – set aside
7Prepare pasta according to package instructions – drain
8Clean and slice mushrooms and add to a large frying pan
9Add soy sauce and Worcestershire and stir over med heat until mushrooms have reduced in size and the liquid has evaporated.
10Stir gravy into pan with mushrooms and mix well.
11Add 1/2 cup (or to taste) sour cream to gravy and stir to mix well
12Season to taste.
13Pour over drained pasta and enjoy
View Full Recipe
Top Vegan Recipe Resources
🥑