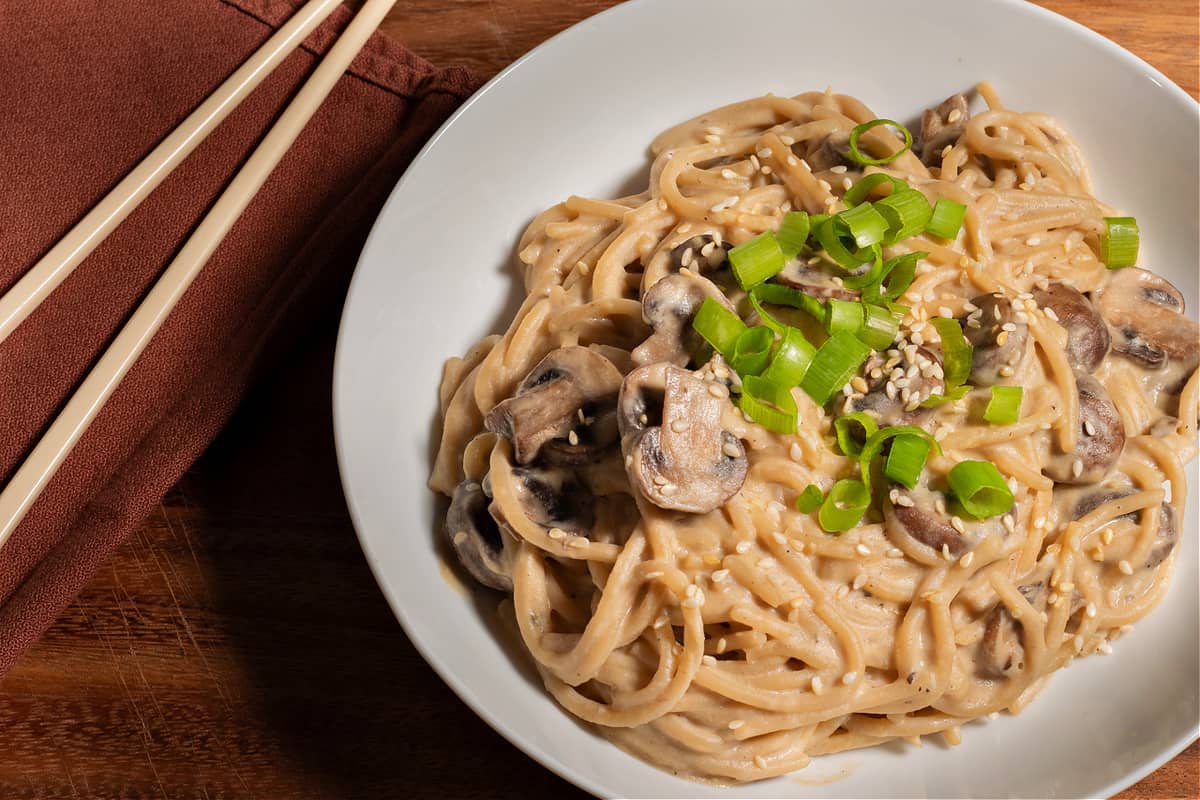 Creamy Garlic Miso Noodles Recipe
By Brand New Vegan
🔪Prep Time: 30 min
👩‍🍳Cook Time: 30 min
Ingredients
1 medium yellow onion (about 2 cups)
1 cup low sodium vegetable broth
3–4 teaspoons minced garlic
1/2 cup raw cashews
1/2 cup water
1 heaping tablespoon white miso
1/4 teaspoon garlic powder
1/4 teaspoon onion powder
1/4 teaspoon black pepper
pinch of salt
12 oz brown rice spaghetti
16oz baby bella mushrooms
1 tablespoon low sodium soy sauce
chopped green onions and toasted sesame seeds for garnish
Instructions
1Clean and slice mushrooms, set aside.
2Dice onion and add to saucepan with 1 cup veggie broth
3Cook until liquid has almost evaporated, then stir in garlic
4After 30 seconds, add the onions & garlic to your blender
5Also add the cashews, water, spices, and miso to the blender
6BUT DON'T BLEND YET. Set aside for now.
7Prepare pasta according to package directions
8Do not drain yet but remove 1/2 cup pasta water and add to blender
9Now you can blend the sauce until it's smooth and creamy
10Add mushrooms to a large saute pan along with the soy sauce
11Cook until their liquid has been released and mostly evaporated
12Drain pasta and add it to your mushrooms
13Add cream sauce and stir to mix well ensuring everything is coated
14Simmer for a minute or two until sauce thickens
15Garnish with chopped green onions and/or toasted sesame seeds if desired
View Full Recipe
Top Vegan Recipe Resources
🥑