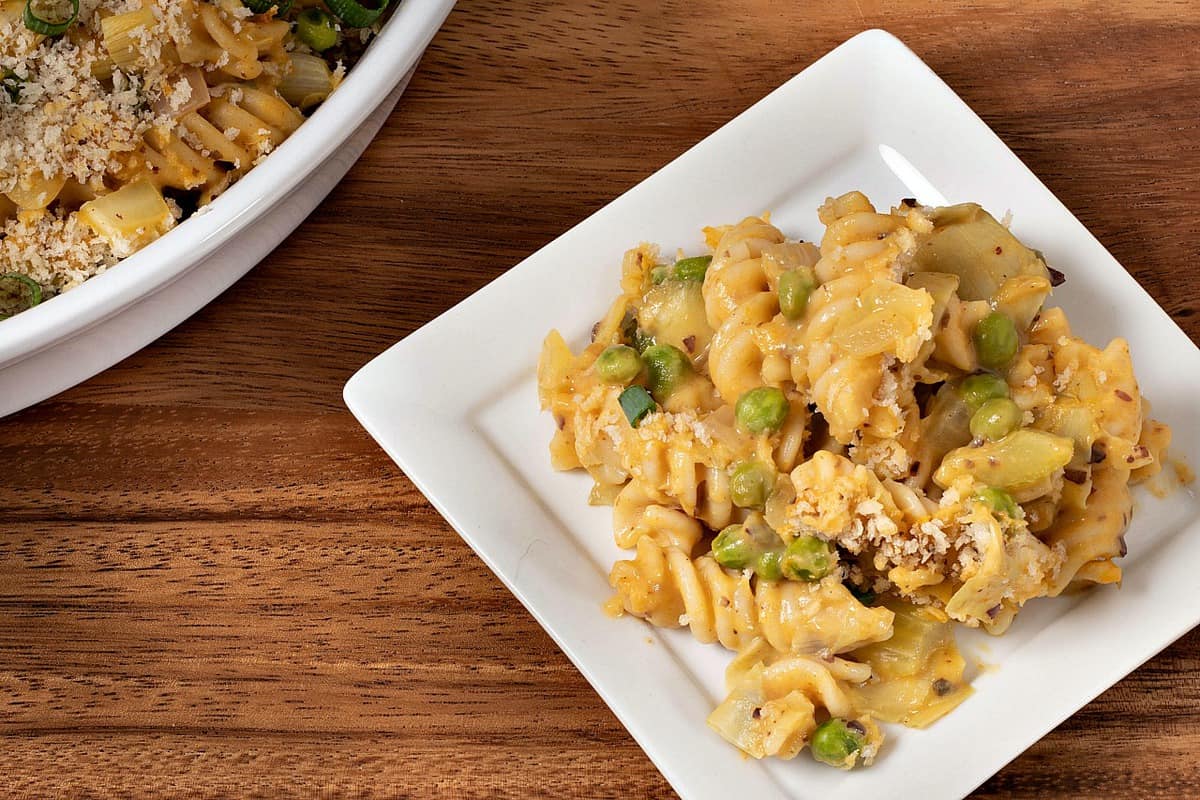 Cheesy Vegan Tuna Casserole Recipe
By Brand New Vegan
🔪Prep Time: 30 min
👩‍🍳Cook Time: 30 min
Ingredients
12 oz brown rice fusilli pasta
15 oz can artichoke hearts (in water)
1/2 yellow onion
2 ribs celery
2 tsp minced garlic
1 cup frozen peas
1/2 cup panko bread crumbs (optional)
3 yukon gold potatoes, cut into quarters (about 400g)
1 cup riced cauliflower
1/2 carrot (about 65 grams)
2 cups water (to steam the potatoes)
1 cup unsweetened almond milk
1/4 cup nutritional yeast
2 Tbs lemon juice
2 Tbs dulse flakes
1 tsp old bay seasonsing
1/2 tsp onion powder
1/2 tsp garlic powder
1/4 tsp salt (if needed)
Instructions
1To prepare the sauce in an Instant Pot, add the potatoes, carrot, cauliflower, and water and set to manual for 7 min with a 10 min natural release.
2If you do not have an instant pot – simply steam them on the stove until they are very soft and a fork can be inserted easily.
3Drain and add to blender along with all the remaining sauce ingredients. (not the 2 cups of cooking water!) Blend until smooth and creamy. Set aside.
4Chop onion and celery and saute in a larke skillet using 1-2 Tbs water or veg broth until softened.
5Drain and rinse artichokes and chop coursely. Add to skillet along with minced garlic and stir.
6Cook 1-2 minutes or until most of the liquid has evaporated.
7Add blender sauce to skillet and mix well.
8Cook pasta according to package instructions. Add peas to water just before the pasta is finished.
9Drain and add to skillet.
10Mix thoroughly and serve if gluten-free.
11Alternatively, pour into a casserole dish and top with optional panko bread crumbs. Bake at 375° F for 15-20 minutes ot until top has browned.
View Full Recipe
Top Vegan Recipe Resources
🥑