Recipes

Caramel Cinnamon Pasta Chips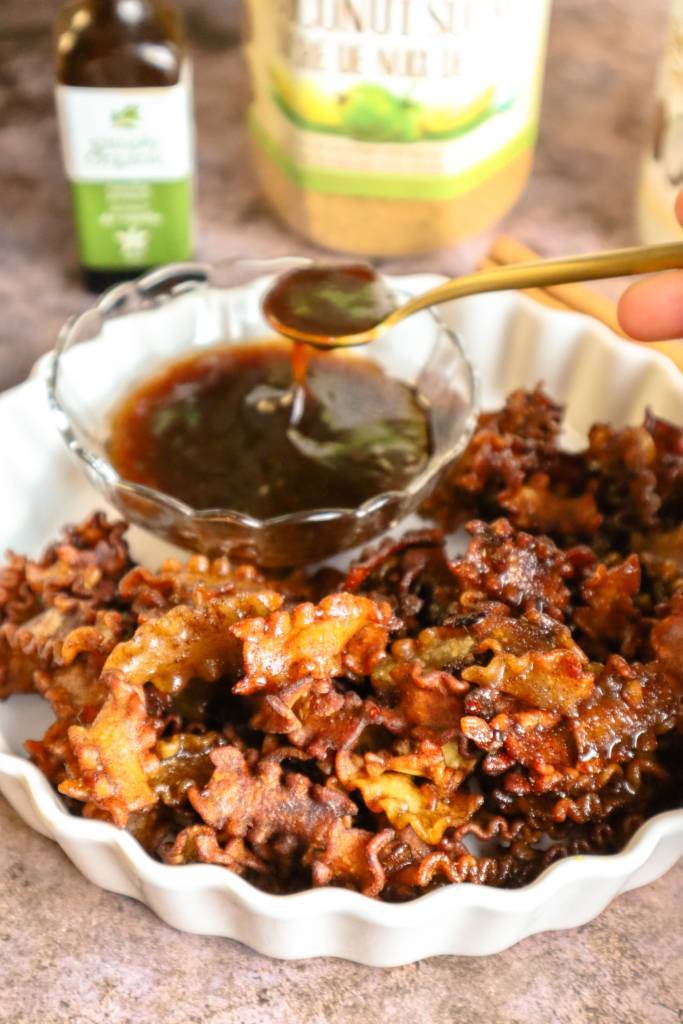 Caramel Cinnamon Pasta Chips Recipe
By Peanut Palate
🔪Prep Time: 10 mins
👩‍🍳Cook Time: 12 mins
Ingredients
Pasta Chips
2 cups dry pasta I used a gluten free brown rice pasta and it worked just as well as pasta with gluten. Feel free to use whichever pasta type you prefer.
1 tsp ground cinnamon
3⅔ tbsp coconut sugar
2 tbsp melted vegan butter or refined coconut oil If using coconut oil, make sure it is not virgin/extra-virgin (should not smell like coconuts)
salt, as needed If using vegan butter above, it may already have some salt. The caramel sauce is also salted, so only add salt if you really need it on top later.
Caramel Sauce
For the caramel dipping sauce with the pasta chips, check out this link to use the full amount of caramel in the recipe!
Instructions
1Mix together the coconut sugar, butter or oil and ground cinnamon in a bowl. Set aside.
2In a stovetop pan over medium heat, cook the pasta according to the instructions on the pasta box.
3Once the pasta is cooked, strain the water out and add it to a new bowl.
4Sprinkle the cinnamon sugar mixture all over the pasta, and shake the bowl around with a lid on top to evenly distribute the topping on the pasta.
5Pour the cinnamon sugar pasta into the bowl of your air fryer. Air fry at 350 F for 6 mins, and then stop it to shake the bowl around. Repeat for another 6 mins once all the pasta chips have been flipped over.
6Once done, allow it to cool for 10-15 minutes. Then enjoy! If you want to bake instead, you can do so at 400 F for 17-20 minutes.
7To store, these might get soggy if stored for too long in an airtight container. Instead, I would store these in a container without a lid or with some room to breathe rather than airtight.
8If you'd like to use a dipping sauce with the pasta chips, check out this link to use the caramel in the recipe.
View Full Recipe
Top Vegan Recipe Resources
🥑