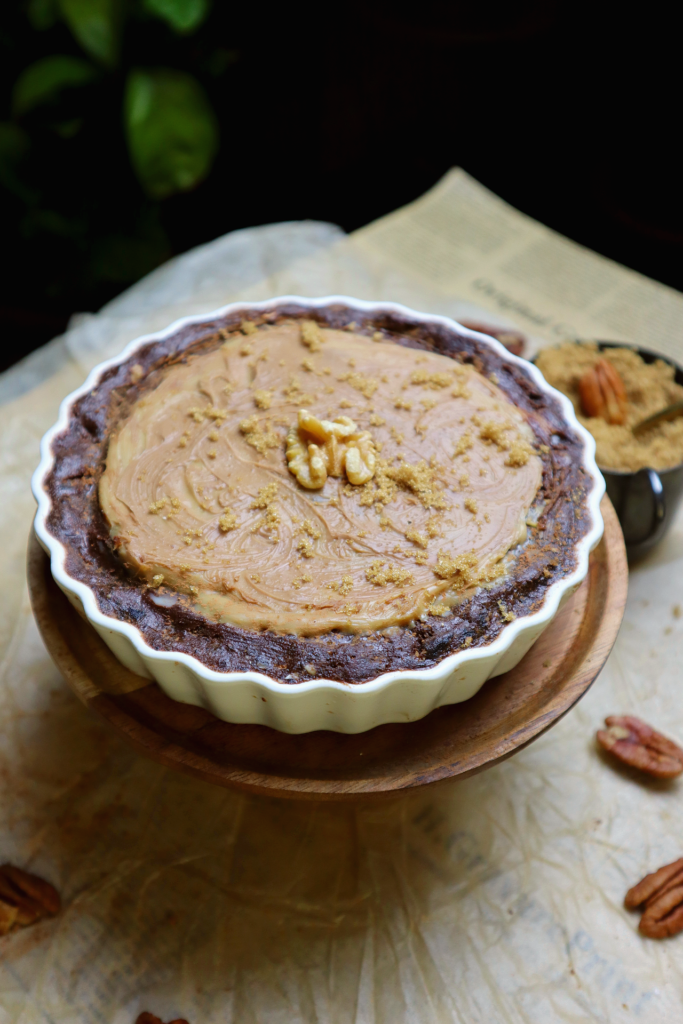 Caramel Chocolate Tart Recipe
By Peanut Palate
Ingredients
For the Crust
1¼ cup soft pitted dates
6 tbsp dry oats
6 tbsp raw walnuts or almonds
3 tbsp cocoa powder
¾ tsp vanilla
Pinch salt
For the Caramel Layer
¼ can coconut milk
2 tbsp coconut sugar
¼ tsp vanilla
⅛ tsp salt
For the Chocolate Layer
½ cup coconut milk canned coconut milk, not carton
2-4 tbsp liquid sweetener agave, 100% pure maple syrup, coconut syrup, date syrup, brown rice syrup, etc.
⅛ tsp vanilla
1½ tsp refined coconut oil *not* virgin or extra virgin
Pinch salt
2¼ ounces dark chocolate you can use whichever dairy-free chocolate you'd like, but you will need to add more sweetener depending on what you use.
Instructions
1For the crust, blend all crust ingredients together until a dough forms. Grease the bottom of the tart pan with a little bit of oil, then pat this dough down. Make sure there is enough room in the middle of the tart – you can make the sides of the crust thicker. It should be medium-thick.
2For the chocolate layer, mix together all ingredients, except the vanilla, in a stovetop pan over low heat. Keep stirring it until it is all melted, then take it off the heat and stir in the vanilla.
3Pour this chocolate layer into the crust.
4For the caramel layer, mix together all ingredients except the vanilla in a stovetop pan over medium-high heat. Continuously stir it.
5Allow it to boil, the turn the heat to low right away. Keep stirring, and let it simmer for 10-15 minutes. It should thicken up.
6Turn off the heat, stir in the vanilla and let this caramel mixture cool down for 10 minutes.
7Pour it over the tart. Then top with any nuts or other toppings (or sprinkle some coconut sugar on top or a crunch).
8Refrigerate for a couple hours, or until you are able to cleanly cut through the tart. This should be about 4-5 hours.
9When serving, let it thaw outside of the fridge for 10 minutes first, to make the crust easier to cut. Also make sure you have a knife that's been dipped in boiling water before cutting – this also makes it easier to cut through the crust.
10Store this in the refrigerator. It should store well for a few weeks in an airtight container.
View Full Recipe
Top Vegan Recipe Resources
🥑