Recipes

Browned Butter Chocolate Chip Cookies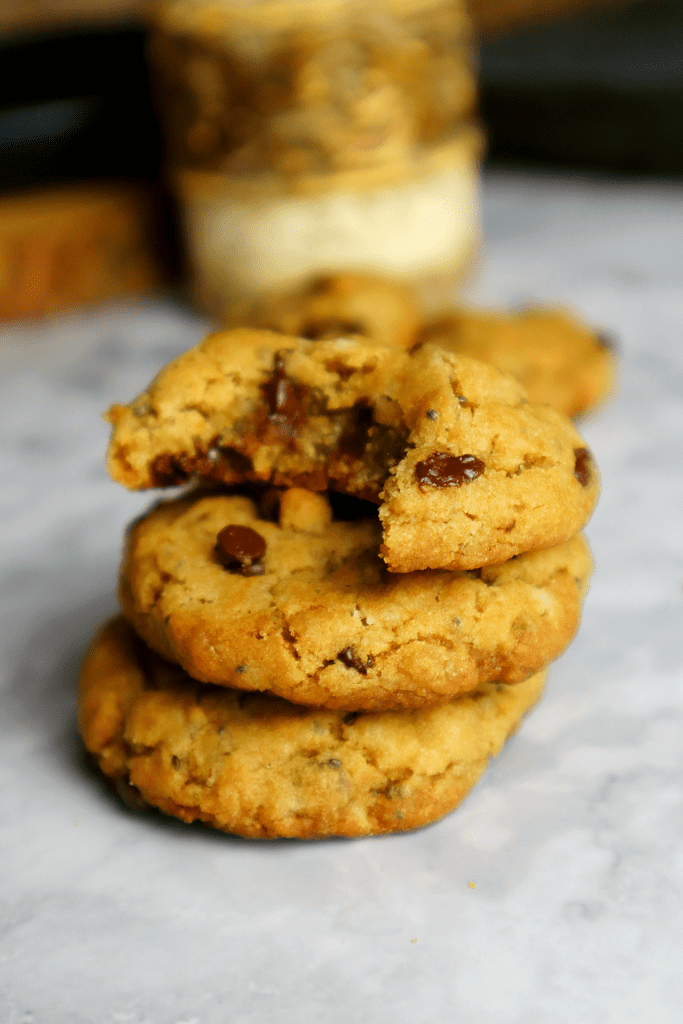 Browned Butter Chocolate Chip Cookies Recipe
By Peanut Palate
🔪Prep Time: 15 mins
👩‍🍳Cook Time: 10 mins
Ingredients
½ cup vegan butter, slightly melted I use Melt brand
1 cup brown sugar Healthier substitute: You can try coconut sugar.
1 tbsp chia seeds
3 tbsp water
1½ tsp vanilla extract I use Simply Organics brand of madagascar, non-alcoholic vanilla extract.
1⅓ cups all purpose flour
½ tsp baking soda
½ tsp baking powder
¼ tsp salt I used pink salt, but regular salt should work fine.
¾ cup vegan dark chocolate chips Make sure the chocolate chips you buy do not have dairy products on the ingredient list.
Instructions
1Make the chia egg by mixing the water and chia seeds together in a small bowl. Set this aside for 15 minutes
2Now brown the butter. To do this, cut the butter into small pieces and add it to a stovetop pan over medium heat. Keep stirring it around constantly and let it bubble and turn a golden-brown color. When it has changed color (you can also smell it at this point – it should only take about 4 minutes of stirring), remove it from the heat and let it cool for 5 minutes before using. Butter does burn easily though, so if you can smell it browning, see it bubbling and see the color change, then it's time to turn off the heat.
3After waiting 5 minutes for the butter to cool, beat the brown sugar and browned butter in a bowl with an electric mixer or a whisk for 2 minutes. An electric mixer is preferable because it will result in a better mixture.
4Add in the chia egg and vanilla, and beat it again for a minute.
5Mix the dry ingredients in a separate bowl, except the chocolate chips.
6Once the dry ingredients are mixed together, slowly mix them into the wet ingredients using an electric mixer or a whisk. Add in the chocolate chips last, then stir to combine.
7Once a dough is formed, let the dough sit in the fridge for 30 minutes.
8In the meantime, preheat the oven to 350 degrees. Grease a cookie sheet or line a baking tray with wax paper.
9Once the cookies have chilled, shape 12 balls. Evenly separate them on the cookie sheet and bake for 9-10 minutes.
10If you like a crispier cookie, leave it in there for 10 minutes. Otherwise, take it out at 9 minutes. Let the cookies cool for 20 minutes once they are out of the oven, because they bake as they cool. Or you could just stuff your face with them, but they'll taste better if you can wait!
11Store leftovers in an airtight container.
View Full Recipe
Top Vegan Recipe Resources
🥑