Recipes

Black Bean Tostadas With Green Chile Sour Cream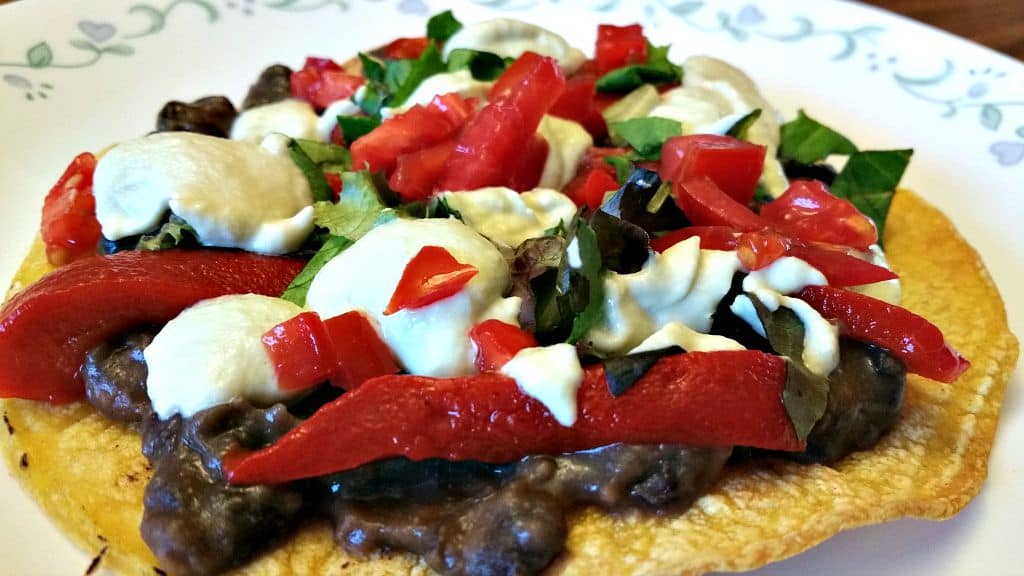 Black Bean Tostadas With Green Chile Sour Cream Recipe
By Brand New Vegan
Ingredients
1 can Black Beans (15oz can No Salt Added)
1/2 can Fat Free Refried Beans (15oz can)
1/4 tsp Onion Powder
1/4 tsp Garlic Powder
1/4 tsp Ground Cumin
1/4 tsp Chipotle Chili Powder
1 tsp Masa Harina Corn flour
1 cup Cashews (unroasted, unsalted)
1/4 cup Hot water
2 tsp Apple Cider Vinegar
2 tsp Lemon Juice
1/2 tsp Salt
1/2 tsp Red Wine Vinegar
4 whole Green Chiles (peeled and chopped)
Corn Tortillas
Roasted Red Bell Peppers (sliced into strips)
Diced Tomatoes
Shredded Lettuce
Instructions
1Soak cashews in enough how water to cover completely for at least 30 minutes
2Preheat broiler to 450 degrees
3Place all Bean ingredients in a pot and stir to combine. Add the Masa to thicken if desired.
4Place all Sour Cream ingredients in blender and blend on high until smooth scraping down the sides occasionally.
5Toast corn tortillas on a cookie sheet for 2-3 minutes at a time before flipping. Repeat until crispy.
6Place bean mixture on tostada shell and spread evenly.
7Top with veggies and sour cream,
View Full Recipe
Top Vegan Recipe Resources
🥑