Recipes

Biscuit And Vegetable Pot Pie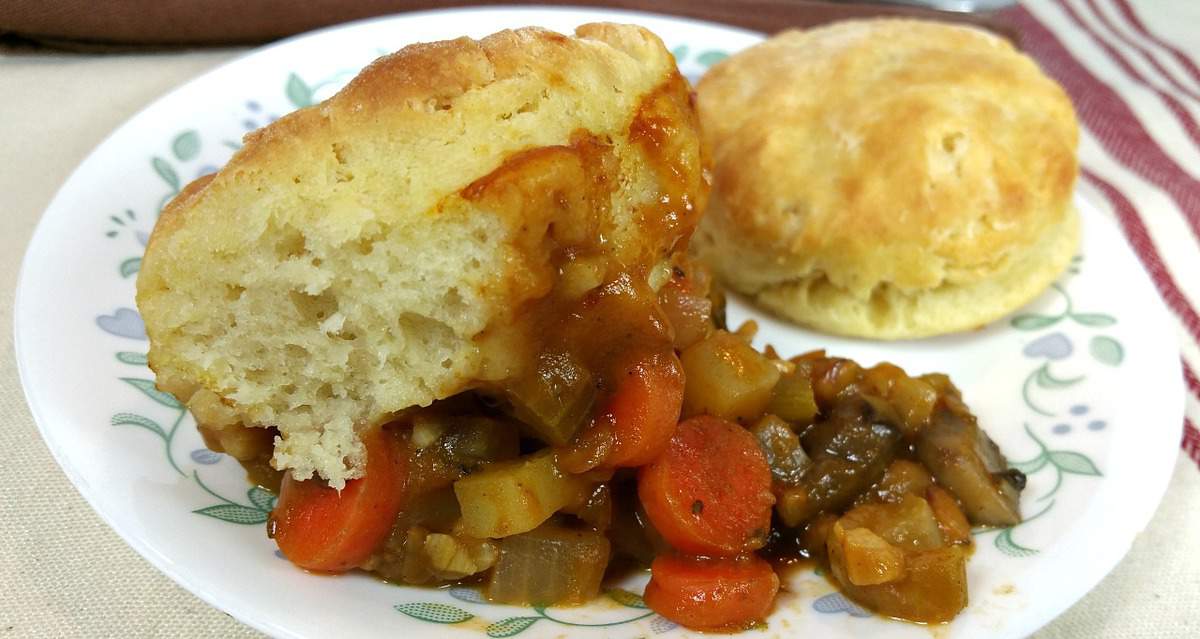 Biscuit And Vegetable Pot Pie Recipe
By Brand New Vegan
Ingredients
3 med Carrots (diced)
3 ribs Celery (chopped)
1/4 med White Onion (diced)
2 Yukon Gold Potatoes (diced)
8 oz White Mushrooms
3 cloves Garlic (minced)
1 Tbs Tomato Paste
1/2 tsp Dried Thyme
1/2 tsp Dried Sage
1/4 tsp Garlic Salt
1/4 tsp Ground Pepper
1 Tbls Flour (thickener)
2 cups Vegetable Broth (low sodium)
1/3 cup Red Wine (optional)
1/2 tsp Vegan Worchestershire Sauce
1-2 Tbls dried Lentils (optional)
Flaky Buttermilk Biscuit Recipe (see recipe below)
Instructions
1Chop carrots, celery, and onion and add to large stewpot, saute in a little veggie broth until softened
2Add mushrooms and garlic and cook until softened
3Add Tomato Paste and spices and stir to combine
4Sprinkle flour over veggies and stir it in
5Slowly add Veggie Broth and increase heat to low boil
6Add the potatoes, Worcestershire Sauce, and the wine (if using)
7Add Lentls.   Note: If you omit the wine - you may not need the lentils. Judge by the amount of liquid you have and if it has thickened or not. I used wine in my dish so added the Lentils to help absorb it. This will increase your cooking time by at least 20 minutes.
8Cook until thickened and adjust spices to taste
9Turn off heat and let stew cool so we can prepare the biscuits.
10Preheat oven to 450 degrees F.
11Prepare Biscuits as per RECIPE
12Roll our dough and use a cookie cutter (or jar) to cut out 12 biscuits about 1/2" to 3/4" thick
13Pour Stew into an 8" square casserole dish and top with 9 of the biscuit rounds
14You should have enough dough for 3 additional biscuits - simply cook them separately
15(They won't go to waste) 🙂
16Bake casserole (and biscuits) for 15-20 minutes or until biscuits have browned
17Let sit for at least 5 minutes to cool and then serve
View Full Recipe
Top Vegan Recipe Resources
🥑