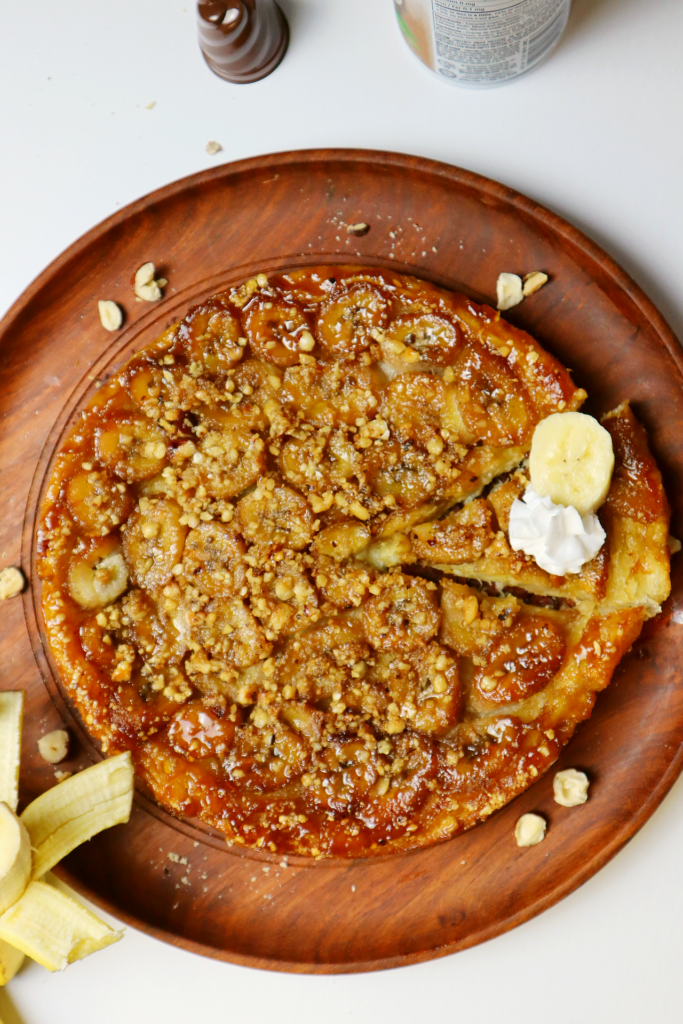 Banana Tarte Tatin Recipe
By Peanut Palate
🔪Prep Time: 15 mins
👩‍🍳Cook Time: 30 mins
Ingredients
1 block/sheet puff pastry
5 tbsp vegan butter I use Earth Balance butter sticks.
7 tbsp brown sugar You can also use coconut sugar to make it healthier. This is not a "healthy" dessert to begin with, but it cooks very well with the brown sugar.
3 fresh bananas, sliced medium thick into circles
3 tbsp finely chopped hazelnuts can substitute with pecans, walnuts or almonds if you don't have hazelnuts
Instructions
1Allow the frozen pastry to thaw out in the fridge for a few hours beforehand. When ready to use the pastry, take it out of the fridge and roll it out. Then preheat the oven to 350F.
2In a stovetop pan over medium heat, add the sugar and butter. Stir it around continuously and let the mixture get darker and thicken. It will burn quickly, but you can smell when it is becoming fragrant and caramelizing. This takes a few minutes, but watch it carefully and remove from heat when it's done.
3When that is removed from the heat, pour it into the pie tray. Then sprinkle the hazelnuts on top.
4Place the banana circles side by side on top of the hazelnuts, covering the entire pie tray in one layer of bananas.
5Take the rolled out pastry dough and place it on top of the pie tray. Lift the edges and tuck it around the sides of the pan so it will puff up in the oven. Cut a slit on top to allow steam to escape.
6Bake for 30 minutes, until the top is toasted and risen. Once you take it out of the oven, let it sit for a few minutes.
7Take a plate and put it on top of the pie tray. Flip it all upside down, and hit the bottom of the tray to allow the tart tatin to fall upside down into the plate.
8Cut it into 8 slices and serve it warm with vegan whipped cream or ice cream!
View Full Recipe
Top Vegan Recipe Resources
🥑