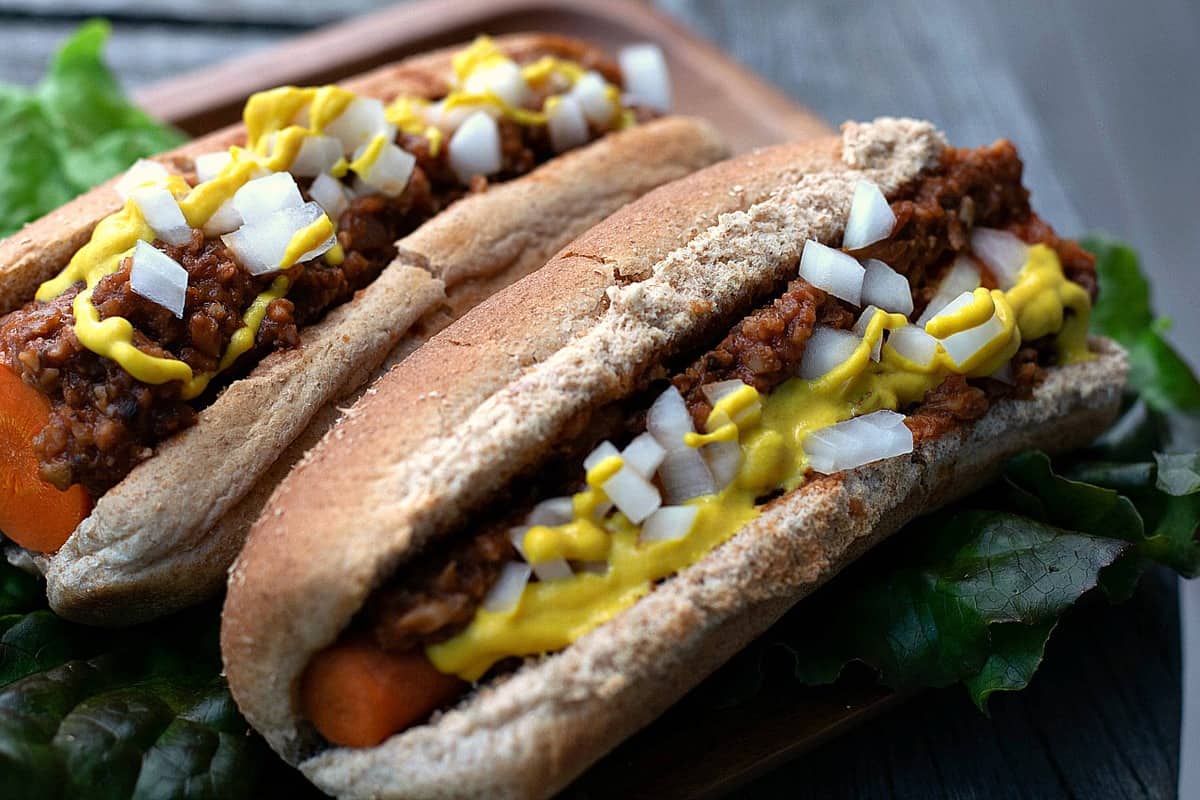 Vegan Coney Island Hot Dogs Recipe
By Brand New Vegan
Ingredients
6 – 8 Smoky Vegan Carrot Dogs
Buns or Bread of your choice
Yellow Mustard
Chopped Onion for garnish
2 cups Cauliflower, finely chopped or riced
1/2 cup Mushrooms, finely chopped
1/4 cup Walnuts, finely chopped (optional)
2 Tbs Soy Sauce, low sodium
1 Onion, finely chopped
3 cloves Garlic, minced
1 Tbs Dried Onion Flakes
2 tsp Chili Powder
3/4 tsp Salt
3/4 tsp Cumin
1/2 tsp Celery Seed
1/4 tsp Pepper
1 can Tomato Paste, 6 oz
1 cup Water
1 cup Vegetable Broth (low sodium)
1 Tbs Maple Syrup
1 Tbs Yellow Mustard
1 tsp Vegan Worchestershire Sauce
1/2 tsp Red Wine Vinegar
Instructions
1If cooking Carrot Dogs on the stove, begin following the Smoky Vegan Carrot Dog Recipe to start them marinating. Otherwise, if you have an Instant Pot, continue on.
2Chop Cauliflower, mushrooms, and walnuts uniformly, and stir in soy sauce to coat.
3Spread evenly on a parchment-lined baking sheet and bake in a 350-degree oven for 30 minutes. Pull out half way through and stir.
4Meanwhile, finely dice the onion and saute in a large pan with a few tablespoons of veg broth to keep from sticking. After onion has softened, stir in minced garlic.
5Once the cauliflower has finished in the oven, add it to the pan with the onions and stir thoroughly.
6Add the onion flakes, chili powder, salt, cumin, celery seed, and pepper and stir to mix well.
7Add the tomato paste, water, and veg broth and stir thoroughly to mix
8Add the maple syrup, mustard, Worcestershire, and vinegar and stir thoroughly to mix
9Simmer 5-10 minutes, stirring occasionally, to allow flavors to meld.
10If it looks too thick, simply add water to thin. If it looks too thin, continue heating to reduce.
11Finally, prepare Carrot Dogs in Instant Pot per recipe.
View Full Recipe
Top Vegan Recipe Resources
🥑